Wednesday, March 10th, 6pm
University Press Books
2430 Bancroft Way, Berkeley, CA
presents
Leslie Scalapino, reading from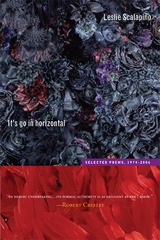 It's Go in Horizontal: Selected Poems, 1974-2006

with videos from way by Konrad Steiner


---
Internationally recognized as one of the most innovative writers in America today, Leslie Scalapino persistently challenges the boundaries of many forms in which she works - poetry, fiction, theater, and theory. This outstanding volume includes work from plays, prose and serial poems written over thirty-two years. Her work demonstrates ideas and inventions in writing, and how one writing invention leads to the next.
Recent poems, such as those from DeLay Rose, appear to leave the page itself as a single infinite line in which the actions of individuals and occurrences in the outside world are synonymous, mysterious, and simultaneous. It's go in horizontal is a dazzling entryway into the oeuvre of a daring and powerful writer.
Three series are selected from the long poem way about which Philip Whalen said, "She makes everything take place in real time, in the light and air and night where all of us live, everything happening at once."
This tripych excerpt from way will be presented in the form of three videos made by filmmaker Konrad Steiner, with images set in counterpoint to the text read by Leslie Scalapino.
---
still from Delay Series